2018 Was A Year of Controversy For The World's Efforts To Control Doping In Sports - Taylor Hooton Foundation / February 2019 Email (PDF)
Funding Announcements Related to NIH's Sound/Health Initiative - The Kennedy Center is a Partner
Relevant Blogs from NIH Director Francis Collins on Music and Health
United States Anti-Doping Agency - 2019 Prohibited List
2018 in Review with ACSM President Dr. Katie Schmitz | Video (Dec 31, 2018)
ACA Sports Council President's Message (November, 2018)
Dr. Andrew Cohen, ACASC President
E/M Reimbursement in 2019: What You Need to Know (Nov 07, 2018)
Scott R. Laker, MD, FAAPMR : Chair, AAPM&R Quality, Practice, Policy, and Research Committee (QPPR)
Annie D. Purcell, DO, FAAPMR: Chair, AAPM&R Reimbursement and Policy Review Committee (RPRC)
Sports Medicine Licensure Clarity Act Signed into Law (Oct 05, 2018)
AMSSM Announces the 2019 Junior Traveling Fellows to Japan (Oct 02, 2018)
Passage of Sports Medicine Clarity Act Improves Care for All Athletes
Lisa Weisenberger, AOSSM Director of Marketing Communications
Following Pitch Count Guidelines May Help Young Baseball Players Prevent Injuries
Howard Osterman, DPM – Washington, DC has been Elected President of American Academy of Podiatric Sports Medicine
New Study Shows Student Athletes In Rural Schools May Be At Higher Risk for Repeated Concussions
JCSMS chairman Jon Halperin had a chance to interview Dr. Boris Lushniak (Rear Admiral Retired, MD, MPH) who was the US Sugeon General from 2013-2014.
Dr. Lushniak discussed his time with the US Public Health Core and talks about current and future healthcare issues that face the United States and the world.
Click Here to listen to the interview
---
JCSMS 2018 Annual Meeting-Collective Impact Notes February2018
The Collective Impact Approach-Collaboration for Impact JCSMS Meeting
---
ACSM Announces New Recommendations and Warnings Regarding Safety of Energy Drinks
Excessive caffeine consumption is dangerous for many, from children to Olympic athletes
INDIANAPOLIS –the American College of Sports Medicine (ACSM) has released a new official statement regarding energy drinks, published today in the college's clinical review journal, Current Sports Medicine Reports. "Energy Drinks: A Contemporary Issues Paper" provides helpful guidance and warnings regarding these beverages because of the dangers they present to at-risk populations, primarily children who are the most vulnerable and the target of marketing efforts. 
"Energy drinks are extremely popular and concerns about their consumption are coming from every sector of society, which is why we've published these recommendations."  said John Higgins, MD, FACSM. "Our review of the available science showed that excessive levels of caffeine found in energy drinks can have adverse effects on cardiovascular, neurological, gastrointestinal, renal and endocrine systems, as well as psychiatric symptoms. More needs to be done to protect children and adolescents, as well as adults with cardiovascular or other medical conditions."
Energy drinks are highly caffeinated beverages that often contain a myriad of vitamins, minerals, amino acids and herbal mixtures. As the global authority for sports medicine, exercise science and the promotion of participant safety, ACSM is focused on facilitating high performance, while protecting those who compete in athletics or engage in other forms of physical activity. By publishing the new recommendations, ACSM is helping consumers to understand the risks associated with rapid and excessive consumption of energy drinks.
"When used safely and with moderation, energy drinks may have some short-term, performance-enhancing effects. However, users are generally unaware of the many potential adverse reactions that could have long-term effects, some of which are quite serious," said Higgins. We highly encourage consumers, parents, physicians, athletic trainers, personal trainers and coaches to follow these recommendations."
ACSM's primary recommendations focus on four key areas:
Protecting children at risk: Children and adolescents appear to be at particularly high risk of complications from energy drinks due to their small body size, being relatively caffeine naive, and potentially heavy and frequent consumption patterns, as well as the amounts of caffeine. The message that these beverages are not intended for children needs to be re-enforced and widely disseminated.
Stop marketing to at-risk groups, especially children: Marketing should not appeal to vulnerable populations. Currently, manufacturers of energy drinks advertise on websites, social media and television channels that are highly appealing to both children and adolescents. Target marketing to sporting and other events involving children and adolescents should not be permitted.
Do not use energy drinks before/during/after strenuous exercise: Regardless of health and fitness level, and until such time that proper safety and efficacy data are available, energy drinks should be avoided before, during or after strenuous activities.  Some of the deaths allegedly due to energy drinks have occurred when a person consumed energy drinks before and/or after performing strenuous activities.
More education and data needed: Investment in awareness and educational resources highlighting the potential adverse effects and safe use of energy drinks is required.  Significant efforts should be made to educate consumers regarding the clear and present differences between soda, coffee, sports drinks and energy drinks. Energy drink education also should be a priority in school-based curricula related to nutrition, health and wellness.
A research agenda must be developed to prioritize key questions about the acute and chronic effects of energy drink use. At a minimum, standard safety and efficacy studies should be performed and submitted to the FDA by manufacturers. Well-designed and controlled research is required to examine the increasing frequency of adverse events being reported by emergency departments.
Health care providers must talk to their patients about energy drink use, and report adverse events to watchdog agencies, like the Poison Control Centers, Consumer Product Safety Commission and the FDA. A national registry should be set up to specifically track energy drink side effects with mandated reporting requirements.
Other specific recommendations include, energy drinks:
should not be consumed by children or adolescents
should not be consumed by other vulnerable populations, including pregnant or breastfeeding women, caffeine naïve or sensitive inpiduals or inpiduals with cardiovascular or medical conditions
should not be used for sports hydration
should not be mixed with alcohol
should bear a label such as "High Source of Caffeine" or "Do Not Mix with Alcohol"
About ACSM:
The American College of Sports Medicine is the largest sports medicine and exercise science organization in the world. More than 50,000 international, national and regional members and certified professionals are dedicated to advancing and integrating scientific research to provide educational and practical applications of exercise science and sports medicine.
---
Interview With Dr. Ed Laskowski At AAPMR National Meeting - October 2017
Edward Laskowsi MD is the co-director of the Mayo Sports Medicine Clinic. He is a professor of Physical Medicine and Rehabilitation at the Mayo Clinic in Rochester, Minnesota. He is a world renowned expert in Fitness and Sports Medicine. He has published over two hundred articles in the fields of Fitness, Sports Medicine and Sports Science. He served on the Presidents Council on Physical Fitness and Sport under both George W Bush and Barack Obama.
In this interview, Dr. Laskowski discusses the exciting new programs that are currently occuring in Sports Medicine, Exercise, Fitness and Sports Science at the Mayo Clinic.

>> Click here to listen to interview!
---
U.S. House Passes Legislation to Protect Athletes and the Medical Professionals Who Provide Their Care
National Athletic Trainers' Association Leads the Effort
The Sports Medicine Licensure Clarity Act (H.R. 302), introduced by Reps. Brett Guthrie (R-KY) and Cedric Richmond (D-LA), has just been passed in the U.S. House of Representatives. The legislation, which would protect athletic trainers and other sports medicine professionals who travel out of state with an athletic team to provide care, ultimately ensures that the medical care of athletes is not jeopardized. The next step is for the legislation to be introduced in the U.S. Senate. If it receives a passing vote in the Senate, it will go to the president's desk for final signature to make it a law.
H.R. 302 clarifies medical liability rules for athletic trainers and other medical professionals to ensure they're properly covered by their liability insurance while traveling with athletic teams in another state. Under the bill, health care services provided by a covered athletic trainer or other sports medicine professional to an athlete, athletic team or a staff member in another state will be deemed to have satisfied any licensure requirements of the secondary state.
After several years of collaborative work between a group of health care organizations spearheaded by the National Athletic Trainers' Association (NATA) and members of Congress, the bill (formerly H.R. 921) was passed by the House of Representatives on Sept. 12, 2016, but was not approved by the Senate before Congress adjourned in December.
"NATA is proud to have championed this legislation that will not only benefit our 44,000 members and the millions of patients they serve, but that will also support health care professionals all over the country, including our initial partners in this effort, the American Academy of Orthopaedic Surgeons (AAOS) and the American Medical Society for Sports Medicine (AMSSM)," said NATA President Scott Sailor, EdD, ATC.  
Once this legislation is passed, health care providers will be able to treat injured athletes across state lines without the fear of incurring great professional loss. This bill reinforces the sports medicine team collaborative approach to care among physicians, athletic trainers and others. It is also vital in light of playoffs and championship games from youth to professional sports and where teams travel a great distance with little notification.
"H.R. 302 addresses a unique problem that sports medicine professionals face when traveling with their teams out of state," said Rep. Guthrie. "There is a lot of uncertainty regarding the legal protection for these practitioners who are licensed and covered by malpractice insurance to practice in their home state, but may not be covered when they travel to another state for a game, tournament or other sporting event. H.R.302 clarifies that these professionals can provide quality and timely health care for injured athletes without putting their personal and professional lives at risk."
NATA is pleased that the House of Representatives has decided to take action on this important legislation and continues to work tirelessly to advocate on behalf of athletes and athletic trainers.
---
ARTIFICIAL PERFECTION - Talking with Teens about Performance Enhancement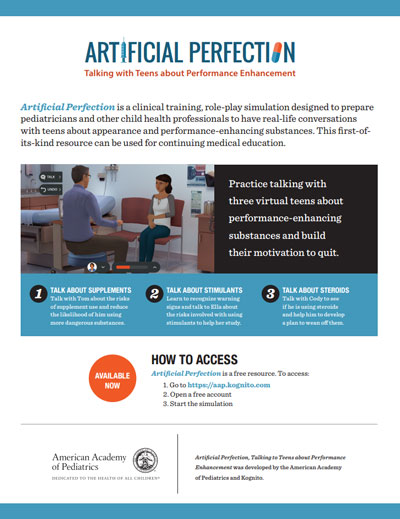 Click to view larger
---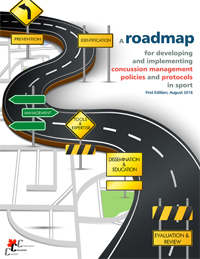 The Latest Publication from the Canadian Concussion Collaborative
The Canadian Concussion Collaborative is a multidisciplinary group that was founded to create synergy between health organizations in Canada who are concerned with the implications of sport related concussions. Their mission is to improve education about concussions and help develop "best practices" for prevention and management of concussions. The CCC is facilitated and organized by long term JCSMS member CASEM (the Canadian Academy of Sports and Exercise Medicine).
You can learn more about the Canadian Concussion Collaborative at www.Casem-acmse.org
View their latest publication, "A roadmap for developing and implementing concussion management policies and protocols in sports" online; click here.